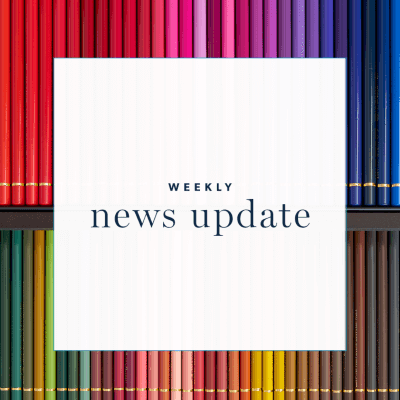 Glamour shared that Ulta has pledged to double the number of of Black-owned brands they sell in 2021.
Above the Law noted that Harvard Law School student Logan E. Brown has created "The Ultimate Work-From-Home Blazer" — and more. 
WPIX reported that Century 21, which in September 2020 revealed that it was filing for bankruptcy and closing its stores, has announced it will relaunch.
The Cut shared that, in response to anti-Asian violence, designers Haoran Li and Siying Qu (of NYC label Private Policy) have put together a collection inspired by the 19th-century Chinese immigrants who helped build the transcontinental railroad. 
Harvard Business Review explained how to ask for an extended leave from work. 
Jessica Valenti asked in her newsletter, "Is divorce the only answer to an unequal marriage?" 
Ms. Magazine spoke with feminists about their hopes for the Biden-Harris administration.
FairWarning noted that California's 662 publicly traded companies have added 669 women to their boards in the past two years — thanks to CA Senate Bill 826. 
Your Laugh of the Week comes from The New Yorker's Daily Shouts, with "These Aren't Sweatpants — They're Joggers." 
On CorporetteMoms Recently…
We shared five of the best apps for parents. 
We took a look back at past CorporetteMoms posts, including the best maternity pants for the office and couples' finances before and after kids. 
We offered some clothes for working moms, including some maternity basics and washable workwear.
Did we miss anything? Add 'em here, or send them to news@corporette.com. Thank you! Also: Are you a mom or mom-to-be? Don't miss this week's news update at CorporetteMoms. 
Feeling social? You can check us out on Facebook or Instagram, or through Bloglovin, Pinterest, or Twitter!
The post Weekly News Update appeared first on Corporette.com.